Scholars and Spies: Experiences from the Soviet Union, Communist Romania, and China
In response to the renewed emphasis of the central government on national security, in November 2015 the authorities of Jilin province, in northeast China, introduced a hotline to report possible spies. The dilemma was how to recognise a spy. Local officials instructed concerned citizens to look out for eight revealing signs (Yang 2015). First, spies never explained their work with clarity, wore different professional hats at the same time, and had plenty of funding at their disposal. Second, at gatherings they often came up with controversial topics then withdrew in the shadows to observe how people reacted in order to select contacts to develop. Third, foreign correspondents, journalists writing about foreign affairs, missionaries, or people involved with NGOs were all likely to be spies. Fourth, spies had proper business cards, but worked irregular hours and the information on the card did not hold up to closer scrutiny. Fifth, people who had studied abroad in many different countries or whose history of studying overseas did not match their age were most likely spies. Sixth, spies enjoyed asking sensitive questions, especially on politics, military affairs, public opinion, and trade. Seventh, they held regular meetings in this or that place to exchange materials and documents. Finally, they could be found at academic conferences and business meetings, where they often gave reactionary speeches and exaggerated the positive aspects of foreign countries.
As a foreign researcher/NGO consultant/occasional journalist who at that time had been based in China for a decade, reading these tips made me uneasy. Just like the archetype of the spy described by the Chinese authorities, I was never clear about my professional identity, enjoyed discussing controversial topics, kept very irregular work hours, and went around with lousy business cards that struggled to accurately describe my many identities. I did not participate in academic conferences very often, but I guess that could have been held against me as well, perceived as a ploy not to attract too much attention. The uneasiness worsened a few months later, when on 15 April 2016, on the occasion of the first National Security Education Day, the authorities of Xicheng district in Beijing publicly displayed the panels of a comic warning Chinese women not to date foreigners because they might turn out to be spies (Horwitz 2016). The posters told the story of a female Chinese public servant who had fallen in love with a red-haired foreigner claiming to be a 'visiting scholar engaged in research on Chinese issues'. As the two grew to know each other, the foreigner persistently asked for internal materials from the woman's workplace, just to vanish right after he got the documents he wanted. Later, state security officials informed the girl that he had been a foreign spy. 
Since then, the position of foreign researchers in China has become increasingly precarious. While those early warnings could still be read as a bad joke, in recent years the Chinese state security has taken to detaining researchers on unsubstantiated charges of espionage or threatening state security. One does not have to think only about the politically charged cases of Michael Kovrig and Michael Spavor, the two Canadian consultants/researchers detained since December 2018 in retaliation for the arrest of a high-level Huawei executive in Canada, nor what happened to Feng Chongyi, a Chinese-born Australian professor who in 2017 was prevented from leaving China and was interrogated for an entire week by state security agents. More recently, two professors from a Japanese university were involved in equally disturbing but less-publicised cases. In 2019, Nobu Iwatani, a Japanese historian at Hokkaido University who specialises in research on the Chinese Nationalist Party during the Second Sino-Japanese War, was detained in China for over two months for possessing a 'forbidden book' (Fischetti and Roth 2019). He had travelled to the country on the invitation of the Chinese Academy of Social Sciences and was detained upon his arrival at the hotel designated by his hosts. In June the same year, Yuan Keqin, a professor of East Asian political history at the same university and a permanent resident of Japan, also went missing after leaving for China to attend a family funeral and to this day, more than one year later, there is still no news about him (Kyodo 2020).
Vague and terrifying as their definition of espionage might be, the Chinese authorities are not an aberration in looking at foreign scholars as a threat. In recent years, in contexts as diverse as Australia, the United States, and Europe, the rhetoric of Chinese students at Western universities as potential spies in the classroom, ready to report on both their classmates and their teachers, has prompted fears about threats to academic freedom. In 2018, the United States Department of Justice inaugurated a controversial China Initiative that purports to tackle the problem of the theft of intellectual property by targeting, among others, established scholars who join China's 'talent programmes' and students participating in university research projects (Barr 2020; Lewis 2020). In Europe, in February 2020 the European Commission circulated among national authorities and universities in Europe a draft 'concept note' that invited them to appoint civilian spy-catchers to stop China and others from stealing secrets. These would be special 'individuals' or 'groups' in each university who would 'liaise' with real counterintelligence officers from national security services 'interested in dealing with issues of foreign infringement' (Rettman 2020). This followed the denial in October 2019 of a residence permit to Song Xinning, former director of the Confucius Institute at the Vrije Universiteit in Brussels, whom Belgian authorities accused of being a spy (Lo et al. 2019). As I write, China scholars are discussing the arrest of a Chinese student at the University of Michigan and two associates for allegedly taking illegal photos of military installations at the US Naval Air Station in Key West (Lolo 2020).
All these cases raise fundamental questions about the relationship between academia and espionage—are these simple manifestations of paranoia on the side of the authorities? Or is there more to it? The problem of theft of technology is undoubtedly real, and so are the ties that bind many academics to intelligence services—one just has to think of David Price's (2016) account of the influence of the American security state on anthropology since the Second World War or Gregory Afinogenov's (2020) recent study of the role of scholars in spying on China on behalf of the Russian empire from the seventeenth century onward. However, the question goes far beyond these aspects. Even if we do not steal any technology and do not formally cooperate with any intelligence service, how do social scientists differ from spies? Two recent books—Sheila Fitzpatrick's A Spy in the Archives (2013) and Katherine Verdery's My Life as a Spy (2018)—grapple with this dilemma from the vantage point of decades of engagement with the authoritarian contexts of the Soviet Union under Brezhnev and Communist Romania under Nicolae Ceaușescu. Written from the perspectives respectively of an historian and an anthropologist, these two volumes excavate the inner conflicts that underlie the activities of social scientists, offering insights that go beyond the specific realities in which the authors operated and providing lessons that well apply to the here—wherever that is—and now.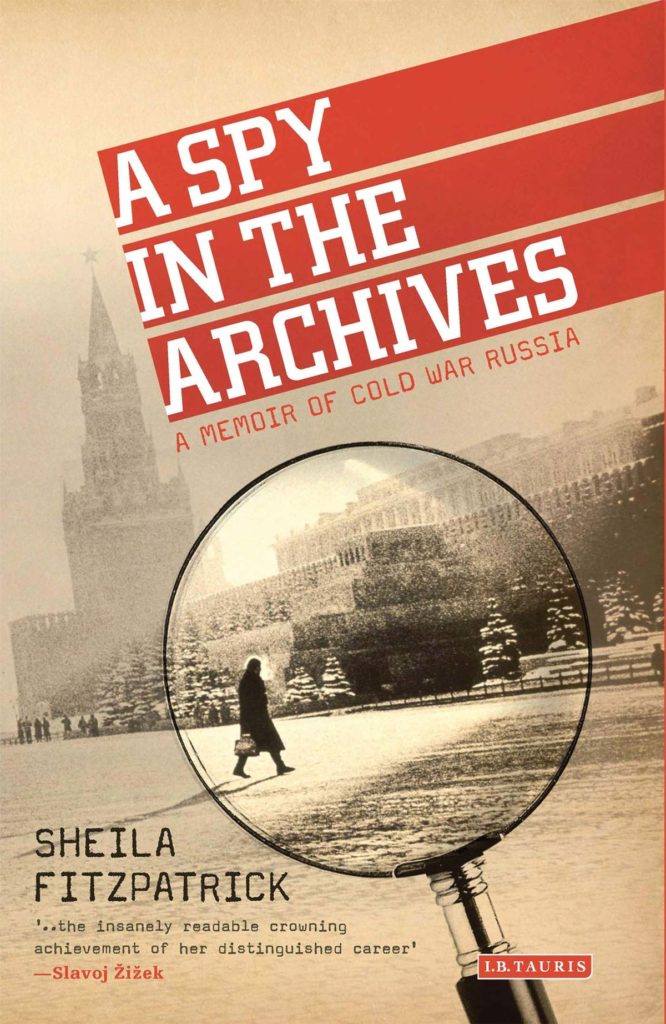 A Spy in the Archives
A pioneer in the field of Soviet history, Sheila Fitzpatrick more than anyone else has brought nuance to our understanding of how common people lived in Stalin's Russia, challenging the sweeping generalisations and binary views subsumed under the 'totalitarian' framework. Using a warm, autobiographical style, in A Spy in the Archives she looks back at the beginning of her career. She first travelled to the Soviet Union for a three-week study trip in the spring of 1966, then returned in September for a longer stay as a foreign exchange student at Moscow State University, planning to research Anatoly Lunacharsky, the first Commissar to Enlightenment of the newly established Soviet state and a major figure in contemporary debates on culture and education. In spite of all the small and big inconveniences that the young Fitzpatrick had to put up with during her stay, all went well enough until one day in June 1968, when a national Soviet newspaper outed her as an 'ideological saboteur', 'one of those scholars who pretend to be doing scholarly research but are actually putting out disinformation, the way intelligence agents do' (1). In other words: a spy.
Fitzpatrick did not hear about this immediately—she did not read that newspaper, which was very conservative, nor did any of her Russian friends or anyone from the British Embassy—so the incident did not have any major repercussion for her life at that time. However, in retrospect this became one of the defining events of those years for her, to such an extent that espionage frames her whole memoir. In fact, she admits to having a certain familiarity with espionage even before she went to the Soviet Union, something related to her 'growing up in a left-wing family in Melbourne in the Cold War' (5). As a teenager, she followed the convolutions of the trial of the Rosenbergs in the United States and then the political throes that followed the defection of an attaché of the Soviet Embassy in Canberra. After completing her undergraduate studies in Australia, she enrolled at St Antony College, Oxford, a place that was often referred to in both the Soviet Union and the West as a 'spy college', due to the number of its staff who had worked in British intelligence. Although Fitzpatrick regarded herself as 'apolitical', 'paying almost no attention to international politics but … sceptical of whatever seemed to be the dominant opinion on what I thought of as the woolly left' (21), in such a politically loaded context she could hardly avoid getting enmeshed in the general paranoia of the Cold War years.
At that time, spy scandals filled the newspapers in Britain. Fitzpatrick remembers the cases of Oleg Penkovsky and George Blake, two famous spies who worked respectively for the Western and Soviet sides and had the misfortune of getting caught. There was also the case of art historian Anthony Blunt, who was unmasked as a double agent and yet kept working as Surveyor of the Queen's Pictures—a story that has recently been presented to audiences in the hit TV show The Crown. Scholars and students attracted high levels of scrutiny. In 1963, newspapers all over the world reported the sensational story of Frederick Barghoorn, an American professor of political science and Sovietologist at Yale who was arrested on the street in front of his hotel in Moscow after a stranger had walked up to him and shoved some papers in his hand. Brought to the Lubyanka, he was released only after the intervention of President Kennedy (43). Two years earlier, an exchange student named Edward Keenan was caught wandering around restricted areas in Central Asia and the Caucasus and expelled as a spy (44). The year of Fitzpatrick's first visit to the Soviet Union, a British student from the London School of Economics named Peter Reddaway was expelled from Moscow for having alleged connection to the British intelligence; and while she was still in Russia, a British teacher of Russian language named Gerald Brooke was arrested on a tourist trip and accused of smuggling leaflets, ending up in a labour camp for three years (45).
Such was the climate in which Fitzpatrick's first visits to the Soviet Union took place. In the book, she describes the briefing she had to take part in at the Foreign Office before she left for Moscow:
Everybody we met in the Soviet Union would be a spy, we were told. It would be impossible to make friends with Russians because in the first place, they were all spies, and, in the second, they would make the same assumption about us. As students we would be particularly vulnerable to Soviet attempts to compromise us because, unlike other foreigners resident in Moscow and Leningrad, we would actually live side by side with Russians instead of in a foreigners' compound. Detailed instructions were offered about how to avoid getting into trouble with the KGB. We should be particularly careful not to be entrapped in sexual liaisons which would result in blackmail (from the Soviet side) and swift forcible return to Britain (from the British side). If any untoward approach was made to us, or if we knew of such an approach to someone else in the group, we should immediately inform the embassy. (82)
According to Fitzpatrick
Download PDF
---
Ivan Franceschini